Make your shopping choices count this holiday season with
the gift that
gives back


Make your shopping choices count this holiday season with
the gift that
gives back
Starter Bundle: Save up to $114

Everything you need to get started
Discover the fascinating world of beekeeping with our Starter Bundle – the perfect way to get started and to experience the magic of harvesting honey straight from the hive.
Featuring our bestselling Flow Hive Classic Araucaria in your choice of 6 or 7 frames with an organic beekeeper's suit, stainless steel smoker, goatskin gloves, J-Hive tool, Flow veil PLUS a sweet saving.
Available for a limited time only – don't miss your chance to forage for this special offer.
6 Frame: was $1064 NOW $959 
7 Frame: was $1144 NOW $1030
---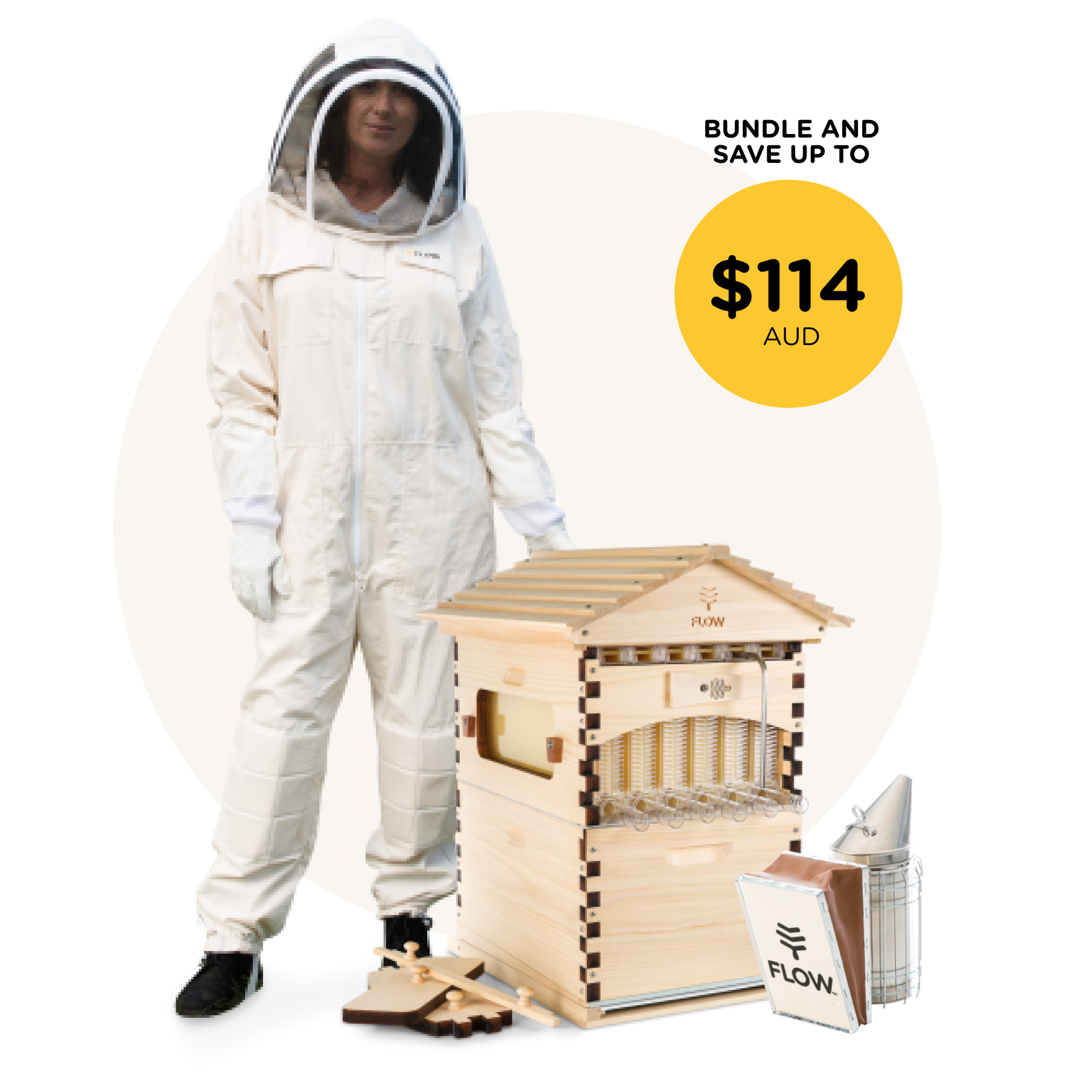 A Flow Hive offers the perfect introduction into the incredible world of beekeeping and its endless rewards.
With the pollination power of up to 40 million flowers a day, a beehive provides an opportunity to experience the interconnectedness of your environment for years to come. Plus receiving delicious honey straight from the hive is a sweet bonus! The best part is you're supporting a company that gives back through pollinator support programs.

Supporting company that gives back

Pollinator power for your local community

Honey every year, harvested gently

50% of TheBeekeeper.org profits support pollinators
The sweetest gifts this season
The gift of knowledge
Help your favorite beginner beekeeper discover the fascinating world of bees with a subscription to our online education platform – TheBeekeeper.org
We've gathered the top bee experts from around the world and created high-quality videos explaining how to become a confident beekeeper, with 50% of the profits used to protect pollinators.
Don't miss a special holiday season discount on annual subscriptions.
An instant gift!
When you add a Flow Hive to your yard, you're not only boosting the pollination power surrounding your hive, but also for blooms within a 10 kilometer radius!
One of the greatest benefits of keeping bees is the effect that they have on the surrounding flora. But it's also so much more than this.
As you start to attune to your bees, you'll become more aware of what forage is available – what's flowering and when – and you'll start to understand how important abundant, clean food sources are.
Don't be surprised if your new connection to nature inspires you to encourage your neighbours to put the sprays away!
Possibly the sweetest reward for your efforts, a healthy hive can produce up to 21 kgs of honey everytime the Flow Super is full!
The best part is that you'll be able to harvest fresh, unprocessed, unfiltered honey, straight from the hive in a way that is so much easier for the beekeeper and so much gentler on the bees.
There's nothing like tasting the seasonal flavours that are unique to your own backyard. You'll have honey for your pantry and for gifting, for years to come.
 A community making a difference

Join a community of inspired and engaged beekeepers all around the world who are doing their part to make a difference for pollinators.
With over 85,000 Flow Hives in use in over 130 countries, that's a lot of impact!
But with the help of our community, we're also doing a lot more…
Through our annual Pollinator House fundraiser, along with 50% of profits raised from our online beginner beekeeping course TheBeekeeper.org, to date we've gifted $700,000  to support pollinator habitat protection and advocacy programs around the world.
That really is giving back!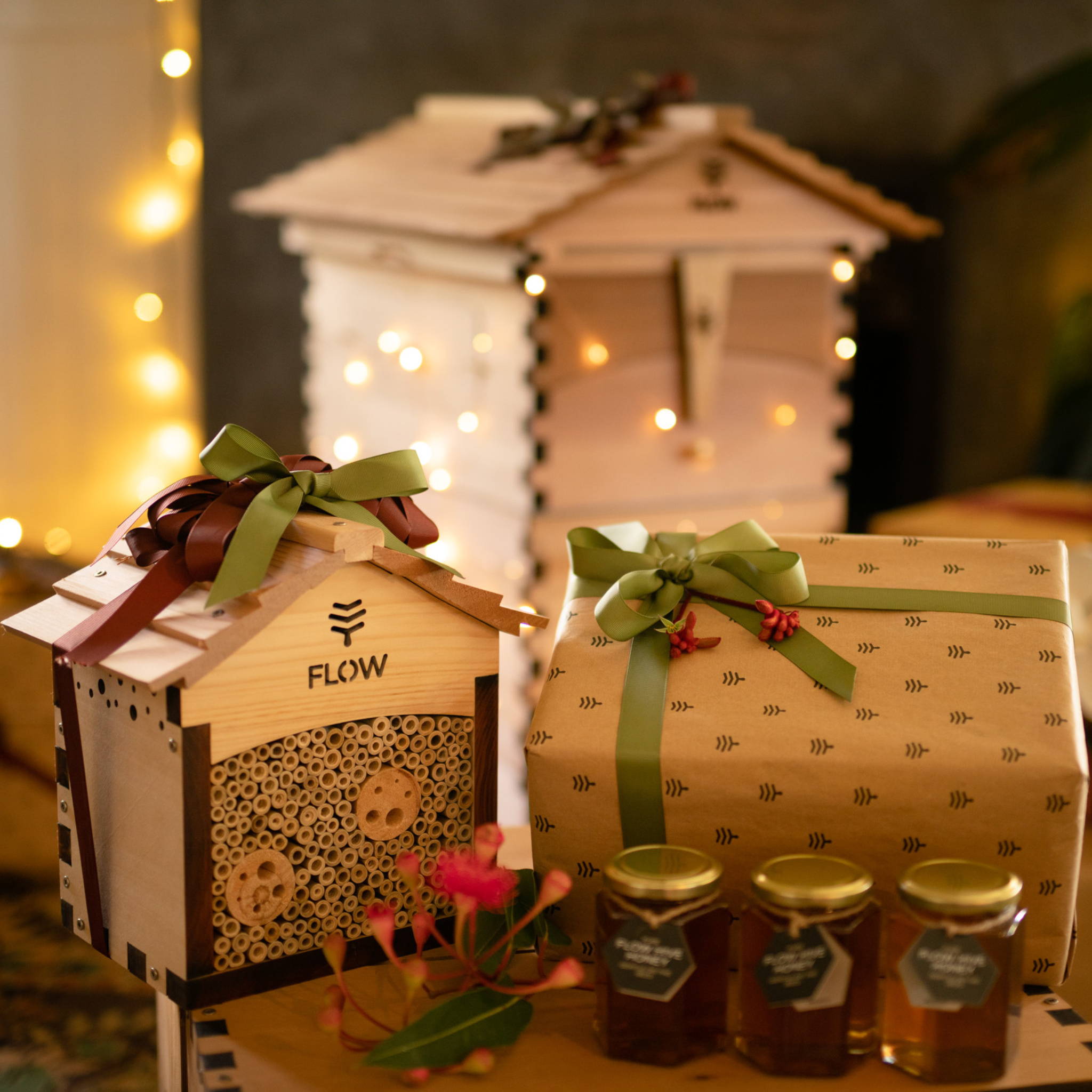 'Tis the season to be early!
Shop now for delivery in time for the gift giving season.
Unprecedented transport congestion and an increase in online shopping is resulting in delayed delivery times.
Our shipping carriers have advised this year, it's important to get your presents sent as early as possible to avoid disappointment.
Gifts come in all shapes and sizes
...to suit all personality types
Here are some recommendations from our bee colony to help you make your shopping selections this holiday season:
The Efficiency Maestro
The Efficiency Maestro is always organised with everything they're going to need well in advance.
In the complex world of an organised bee colony, the forager embodies this personality trait… Foragers collect everything that their colony needs – pollen, resin, nectar and water.
They can visit up to 5000 flowers in one day in search of resources and can travel up to 10 kilometers from their hive!
The forager recommends our Starter Bundle because it includes everything you need to start your beekeeping journey.
The Thrill Seeker
The Thrill Seeker is always on lookout for new ways to do things and isn't afraid to take a risk to get the job done.
Are bees actually thrill seekers? Although it appears that this "bungee bee" is swinging joyously, she's actually trying to remove a foreign object from her hive. Bees are excellent at removing anything that disrupts their home's perfect order.
Beekeeping is an excellent activity for a Thrill Seeker – it's super exciting! The Flow Hive Hybrid is a fun way to start – you can experience the magic of harvesting straight from the hive, or adventure into the hive to harvest your very own honeycomb.
The Clean Machine
A perfect house mate, The Clean Machine keeps everything spick and span.
Their super power is being able to spot anything out of place and keeping things hygienically clean. All honeybees are perfect little Clean Machines! A beehive is one nature's cleanest, most sterile environments, plus they're also excellent at self-grooming.
The Clean Machine recommends our premium Flow Hive 2+. The ultimate in easy honey harvesting technology, with extra features to help you take excellent care of your bees.
The Team Player
A perfect collaborator, The Team Player is excellent at working with others.
All honeybees are incredible Team Players and even change roles depending on the needs of the colony. Considered a super-organism, a bee colony acts as one entity. Individual bees cannot survive on their own.
These bees are working together to regulate the temperature in the hive for healthy brood development. They fan their wings to create "air conditioning" that promotes circulation and ventilation, helping the colony to breathe.
Be on the lookout for extra beekeeper's suits for your Team Player – they'll want to suit up anyone who's keen to share their fascinating hobby.
The Hard Worker
The Hard Worker is full of energy and seems to get more accomplished than the average person.
A bee colony is full of Hard Workers… It's easy to spot one by looking out for "pollen pants" – a bee with a large collection of pollen stored behind its hind legs.
It's incredible that a bee can carry its own weight in nectar and pollen!
Larger 7 frame Flow Hives are perfect for Hard Workers. They love extra space for the bees to create and store even more delicious honey.
The Carer
The Carer always considers the needs of others and loves to offer their support.
In a bee colony, all worker bees spend time caring for others. From nurse bees who spend their time continuously feeding developing larvae, to queen's attendants who take care of the queen bee's every need.
If you're aiming to support a budding beekeeper this holiday season, our gift cards are the perfect way to look after them.
Discover the fascinating world of beekeeping
🎥 WATCH HERE to discover why people all around the world are adding Flow Hives to their yard – with the benefits of pollination power and fresh unique honey straight from the hive.
If you're just getting started, we're here to help you every step of the way, with plenty of online resources to help you gain confidence.
All hive purchases come with our Bee Supported Package—dedicated email, chat, phone support, and access to our Flow Community Forums which are a hive of activity. PLUS join us weekly for live stream learning and questions with our inventor Cedar Anderson.