Don't miss your share of the forage this holiday season
Bee Fact:  Honey bees have close to three million hairs on their bodies, strategically placed to collect and carry pollen – even on their eyes!

The bulk of hair is found on the bees legs where the long hairs are 5 times more concentrated, making them perfect for grooming pollen from the rest of their bodies to be stored in their pollen baskets or corbiculae, located behind their hind legs. Unlike nectar, after foraging, pollen needs to be deposited into a cell by the worker herself. After making her deposit she then gives herself a thorough grooming, not to improve her appearance, but to ensure her hairs will be perfect for collecting pollen on her next foraging expedition – how efficient is that!
Holiday bargains! LIMITED AVAILABILITY
Harvest honey on tap with this popular Australian-made Flow Hive.
Pay only $719 - SAVE $130
Use the coupon code ARA6BUZZ to claim this deal.
First 50 orders only.
Get in quick!
Get the best of both worlds with honey on tap and fresh honeycomb!
Pay only $579 - SAVE $70
Use the coupon code HYBRIDBUZZ to claim this deal.
First 30 orders only.
OFFER ALL CLAIMED
Store even more honey with our 7 frame Flow Hive!
Compatible with Langstroth 10 frame equipment.
Pay only $789 - SAVE $140
Use the coupon code ARA7BUZZ to claim this deal.
First 50 orders only.
Sorry, no rainchecks.
Stay cool in your apiary with this ventilated mesh beekeeping jacket.
Pay only $111 - SAVE $28. That's 20% off!
Use the coupon code JACKETBUZZ to claim this deal.
First 50 orders only.
OFFER ALL CLAIMED
Harvest honey on tap with our classic Flow Hive.
Pay only $789
Save an additional $100 off our already discounted hive. That's a saving of $200!
Use the coupon code CEDAR6BUZZ to claim this deal.
First 50 orders only.
It's our bestselling hive so don't miss out.
We've got you covered for gifts!
Don't worry about holiday shipping deadlines.
Our Flow Gift Cards are digital and instant – no shipping required.
SHIPPING
* Our shipping agent's postal bees will be doing all they can to get your deliveries out as quickly as possible, however, for many regions it is unlikely that orders placed after December 16th will be delivered before December 25th.
Double check our comprehensive regional shipping deadlines to ensure you place your order on time for delivery before December 25th.
T's & C's
Please note, these offers are SO AMAZING that they cannot be used in conjunction with any other offer. You can only use one discount code per order, so if you want to take advantage of more than one of these sweet deals you will need to place multiple orders. See the full Ts & Cs here in the 'Terms & Conditions' tab.
Honey on tap directly from your beehive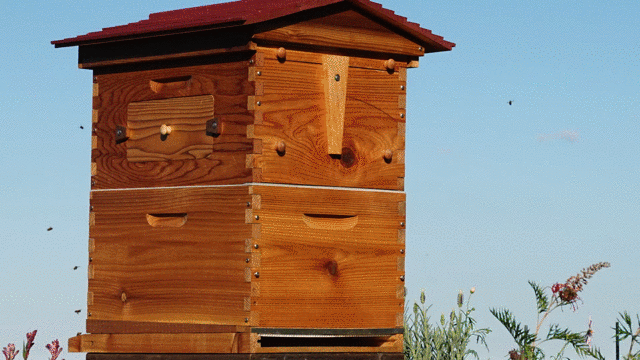 Turn the Flow Key and watch as pure, untouched, unprocessed, untreated honey flows right out of the hive and into your jar!
Why get a Flow Hive?
Bees are fascinating!
Flow Hive is so much easier for the beekeeper, and so much gentler on the bees.
Watch through the side and rear window and see all the girls making honey!
There are just so many intriguing things that bees do - the learning never ends.
Delicious honey, directly into your jars
Easily harvest pure, unheated, unprocessed, untouched, raw delicious honey directly from the hive! No mess, no fuss, no expensive processing equipment, and much more gentle on the bees than conventional harvesting.
With Flow, you can fill just one small jar from part of a frame and bring it straight to the kitchen for breakfast, or harvest one or more Flow Frames and share it with your friends!
Isolate all the different flavours of the seasons
Because you can harvest single frames directly into your honey jar, you get to taste all the different flavours of the seasons without the blending, heating and oxidisation associated with conventional harvesting methods.
Bees tend to fill frames one at a time, so each Flow Frame will reflect the flowers that were blooming when it was filled, allowing distinctive variations in colour and flavour to shine through.
Share the experience with your friends
With Flow, harvesting honey is now something you can easily do with friends and family.
To share the experience and gift honey to your friends is one of the great things about keeping bees.
Pollination. Education. Wonder!
Bees play a huge role in pollinating the food we eat.
Keeping bees brings awareness to the cycle of life we all depend on.
---
---
How it works
Our invention - the biggest innovation in beekeeping for 150 years - was originally launched in 2015 through a record-breaking crowdfunding campaign.

"This has all come about because of our love for the bees and an acknowledgement of how important they are, not only to the food we eat, but to all life on Earth."
- Stuart Anderson

"If we look after the bees, they'll look after us. And the honey really is an amazing bonus."
- Cedar Anderson

It's hard to think of a more rewarding hobby than beekeeping.
However, extracting honey from a conventional hive used to be a real labor of love...
It was hot, sticky, heavy work, involving special equipment and lots of squashed bees.
Not anymore!
After a decade of tinkering, my dad Stu and I invented the beekeeper's dream – the Flow Hive.
It makes harvesting honey as simple as turning a tap and watching as up to 3kg of pure fresh honey pours out into your jar from each Flow Frame. And because it's completely unprocessed, it tastes amazingly good!
---
---
Terms & Conditions
Bees & Bargains

offers are strictly limited (we won't limit your bees but the bargains are definitely limited).

Each offer has a set quantity of discount coupons available, once they have all been claimed the coupon code will cease to work at checkout and the deal is no longer valid from this time.

All offers expire at midnight 16th December AEDT if not sold out beforehand (we are pretty sure that most of them will sell out first).

Bees & Bargains

offers are not available with any other offer or coupon code.

Delivery of items purchased by 16th December is expected before 25th December based on holiday shipping schedules provided by our shipping partners.

Please note, while we will do everything we can to deliver on time any unforeseen delays in shipping during the holiday season are the responsibility of the shipping carrier (try as we might we just can't control how quickly they drive).
New to beekeeping and not sure where start?
Great - the world needs more people caring for the bees!
Beekeeping is such a fascinating pastime enjoyed the world over by people from all walks of life.
Learning about looking after your bees is a fascinating and truly rewarding experience. They are amazing little creatures!
We love welcoming new beekeepers worldwide into the Flow family and have a swarm of resources to assist you in your journey.
Included with the purchase of any of our Flow products is support from our knowledgeable Flow team via: