Looking for the best way to get started?
Our Starter Bundle is perfect for anyone who is setting up a Flow Hive for the first time as it comes with everything you need including essential safety gear, PLUS an incredible saving.
Featuring a Flow Hive, an organic beekeeper's suit, stainless steel smoker, goatskin gloves, J-Hive tool, Flow Veil and a sweet saving!
A special offer for spring
To celebrate the start of spring, we're offering this incredible upgrade feature FREE with any Flow Hive 2 Araucaria purchase.
Simply use the code FREEHIVESTAND at checkout to receive $109 off! Terms and conditions apply.
Hurry this offer is only available until 21st of September or until stock runs out. Don't miss this sweet opportunity to get set up with our best-selling hive.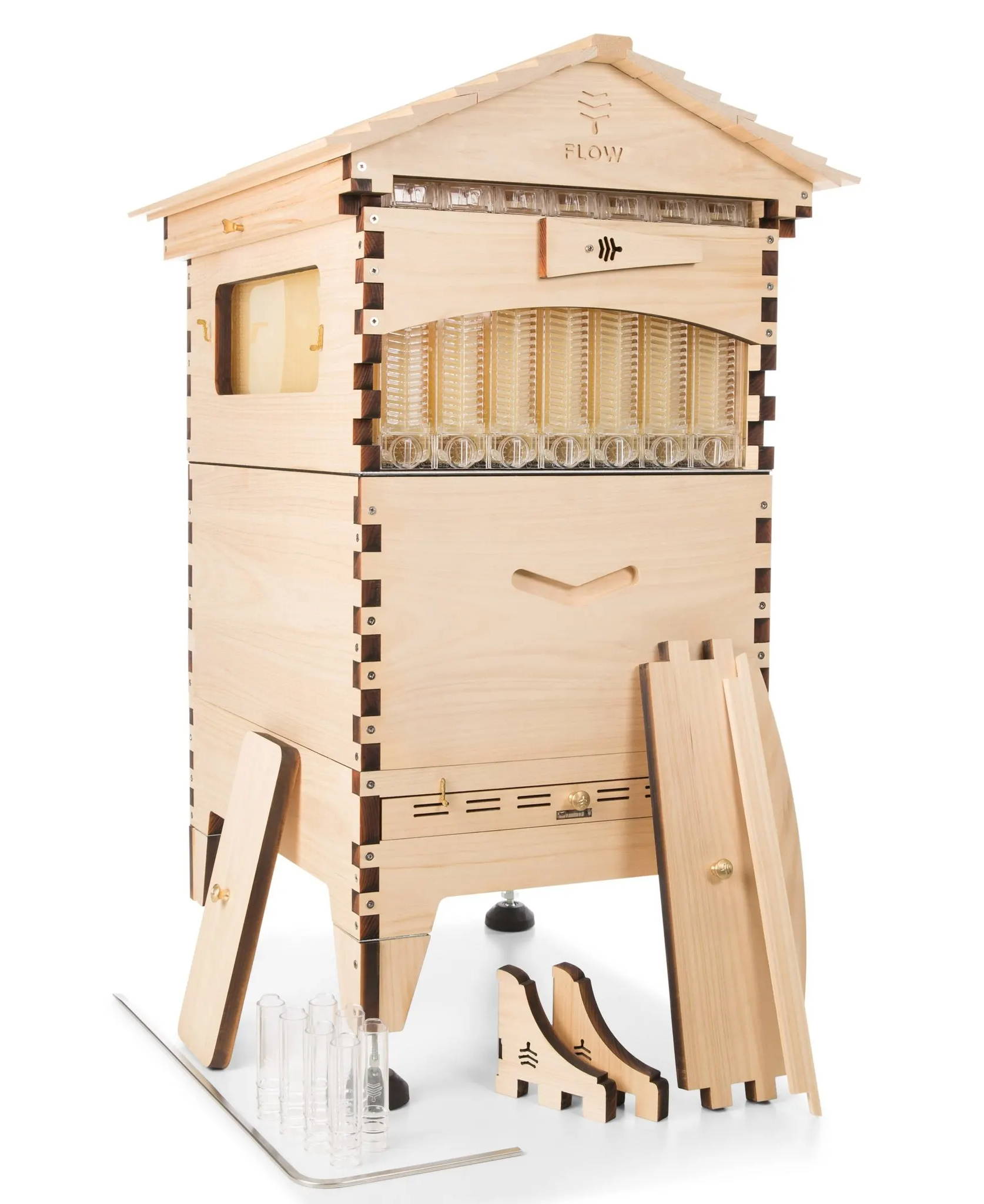 Ready to discover the fascinating world of bees?
In most areas, spring is the best time to start your beekeeping journey. As the cold season ends, an increase in forage makes it the perfect environment for a new hive to thrive.
Plus expanding colonies make it the easiest time to source a colony of bees to call your own.
Here's a list to help get you started:
Reserve your bees
Although designed to be a perfect home for bees, it's not often that a colony will move straight into your beehive – you'll need to source a colony to call your own.
One of the best ways is from a reputable bee breeder who will help provide you with a healthy colony for your new Flow Hive.
A popular option is to purchase a Nuc – a small colony which includes a laying queen, workers, drones and 4 or 5 frames of brood and honey. This is an easy way to set up your first hive.

Top Tip: As soon as a colony is ready for a new home, they don't often wait around, so it's important to have your Flow Hive set up and ready to go.
Frequently Asked Questions
Starting as a beginner
It's easy to get started but important to learn as much as you can. Check out online resources or connect with a local mentor to kick start your learning.
Starting with a Flow Hive
Flow Hives are a fantastic hive for beginners as they're easy to use and make harvesting honey so much easier for the beekeeper and so much gentler on the bees.
Can anyone keep bees?
Yes! People keep bees all over the world, even in urban areas. Anywhere that bees can naturally survive, you can become a beekeeper.
How much work?
Keeping bees is an absolute joy, so maybe work is the wrong word 😉 The amount of time needed will vary at different times of the year – the amount of time required is minimal.
Assembling your new bee home
Building a new home for your bees is an exciting part of your beekeeping journey. It's best to take your time and ensure that you get your assembly right. Check out our assembly videos here.

Top Tip: It's easiest to paint or stain your hive before you add your windows and latches.

If you're short on time, you'll need your base, brood box, brood frames and roof first. It's often some weeks before you need to add your Flow Super, so leave this for a rainy day.

Experienced beekeeper's often keep extra brood boxes and brood frames on hand – you'll be surprised how often they come in handy.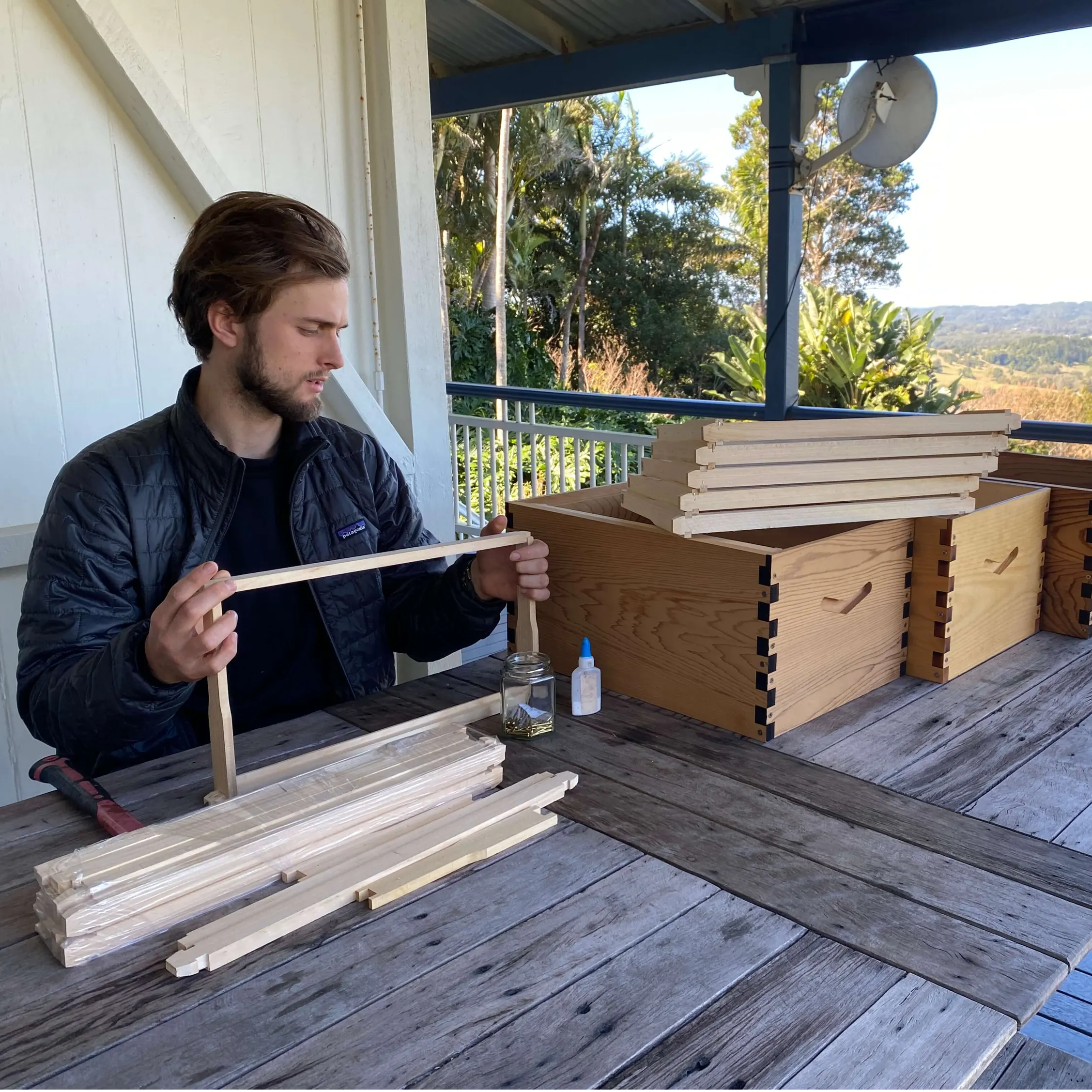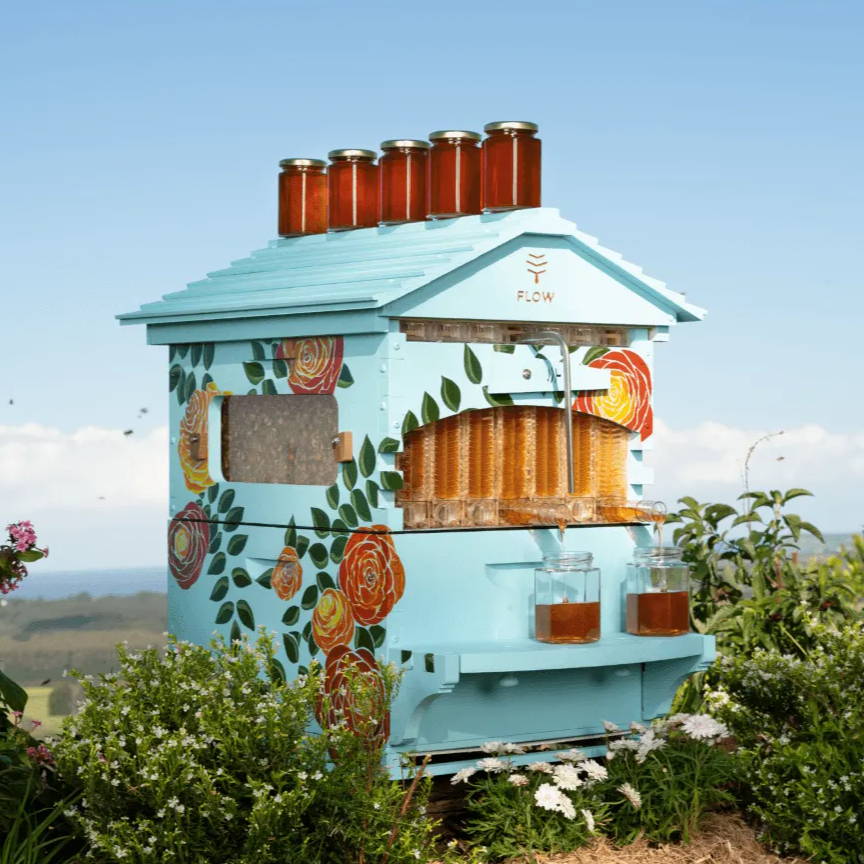 Weather protection
It's important to treat the timber on your hive to give it the best weather protection possible for your climate, especially the roof as it is the first line of defence against the weather.
All Araucaria hives need 2 coats of exterior-grade weatherproof paint to help them endure the elements. Painting your hive is a great opportunity to get creative and really make it your own!
Cedar hives can be oiled to create a lovely natural finish. You'll need to reapply every 6-12 months depending on your climate, as the sun will fade the finish.
Which Flow Hive should I choose?
All Flow Hives include our revolutionary Flow Technology which allows for easy honey harvesting straight from the hive. All you need to do is decide which hive model will be perfect for you.
Choose a sweet spot
It's not easy to move your hive around once your colony has moved in, so it's best to put some consideration into where you will locate your hive.
You'll need to think about what's best for the bees, what's best for you, and what's best for your neighbours.
Here are some tips on how to find the perfect spot.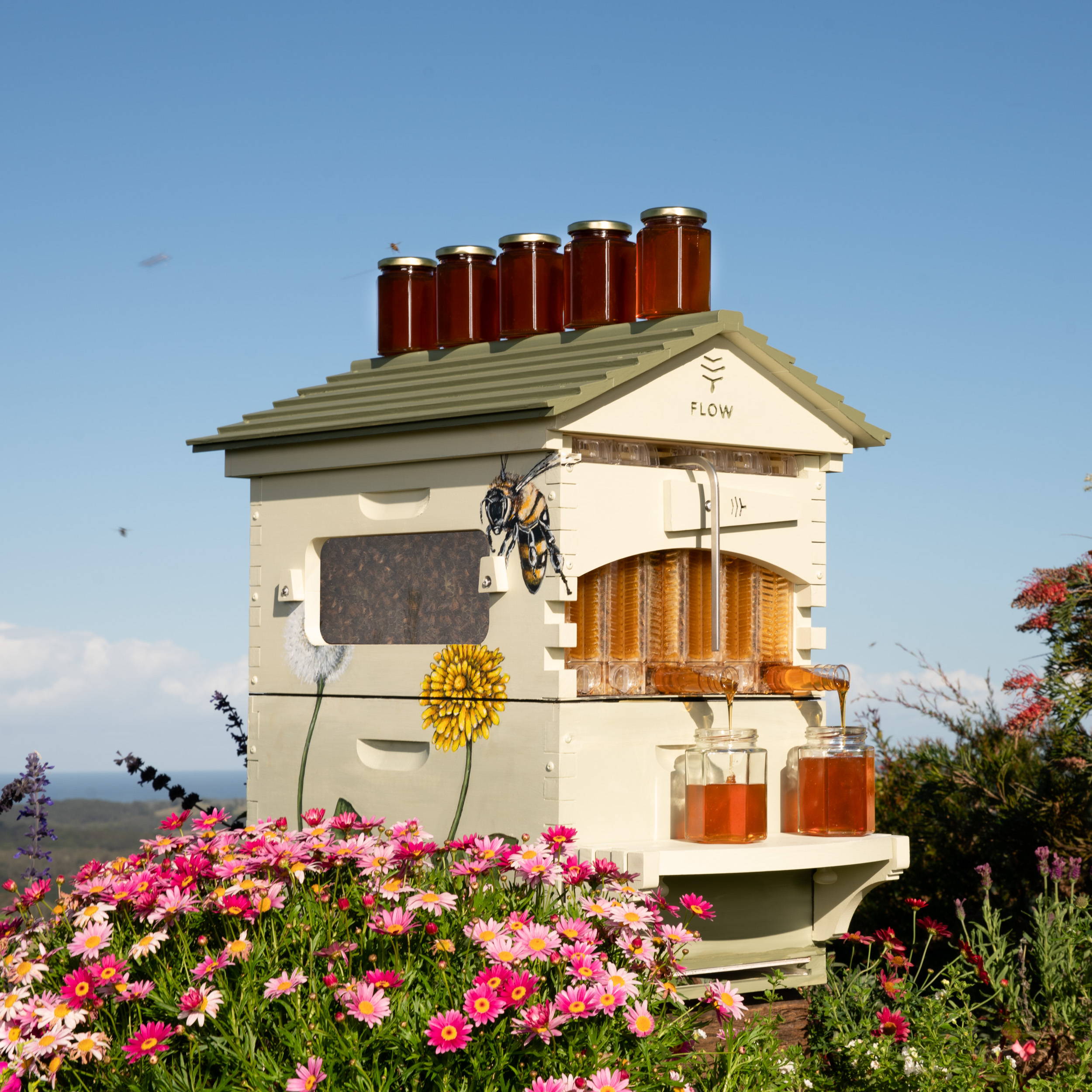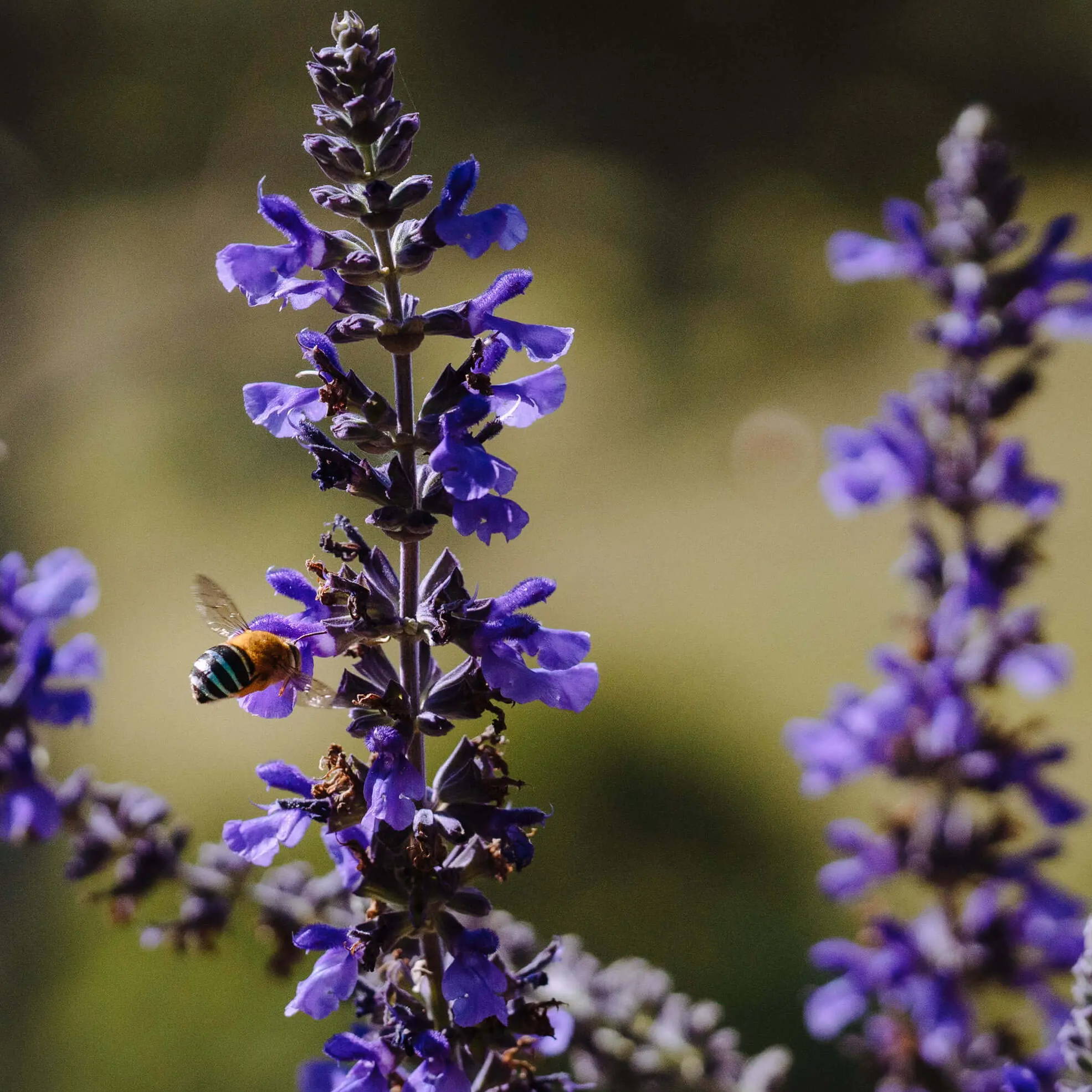 Start your pollinator garden
Now is the perfect time to create a bee-friendly garden. Not only will your plants thrive with the pollination power of your colony, your bees will also have plenty of resources to keep them happy.
Top Tip: Planting a variety of plants which will bloom over the year, ensures your bees have some forage in every season. Plant in bountiful clumps to make foraging easier.
Planting a mix of smaller shrubs and flowering trees provides pollinators a steady supply of food.
Native plants will be more resilient than introduced species, so make sure to include a few species which are endemic to your region.
Don't forget this step!
One of the most important parts of becoming a beekeeper is learning as much as you can.
We have a swarm of resources available to help you every step of the way, including a comprehensive online beginner beekeeping course, created in conjunction with the world's experts – TheBeekeeper.org
It lets you fast-track your learning easily and enjoyably. Learn in your own time with high-quality videos explaining what you need to know in order to feel confident looking after your bees.
Get started this spring
Our Starter Bundle is perfect for anyone who is setting up a Flow Hive for the first time as it comes with everything you need including essential safety gear, PLUS an incredible saving.
I'm new to beekeeping, is this right for me?
We're here to help! Email with our friendly support staff, or phone in and kick back for a good old chat with Trace, or live chat to get fast answers to your buzzing questions.
There is a lot of new beekeeping terminology that you'll need to understand. From queen excluders to drone bees and all the parts of a beehive, download our simple PDF guide to beekeeping here to get on top of it all.
Did you know that Cedar connects in with our Flow Community every week livestreamed to YouTube or Facebook? You can ask him questions and have them answered from your lounge room!
Does the Flow Hive work in extreme temperatures?
Yes! The Flow Hive is successfully in use in all climates wherever beekeeping is possible, from the hot Texan summers to the cold Canadian winters.
Bees rarely find their way into empty beehive boxes, even though they are designed to be a perfect home for them.
There are a number of ways of starting a colony, from buying a package of bees, to receiving a hive split or catching a swarm.
We also have a range of videos and blogs to help you understand the different ways in which you can source bees for your new hive.
How will I learn about Beekeeping?
There is a lot of new beekeeping terminology that you'll need to understand. From queen excluders to drone bees and all the parts of a beehive, download our simple PDF guide to beekeeping here to get on top of it all.
We also have a swarm of resources available to support all new beekeepers, including:
Learning from experienced people in your local area is invaluable so it's also helpful to connect with a local beekeeping club, beekeeping course or mentor for support.
I have a small yard or rooftop, can I still have a hive?
Yes! Flow Hives are perfect for setting-up just about anywhere.
You will need enough space to access the back of the hive for easy harvesting and your bees will require a clear space at the front of the hive for their flight path.
You'll also need to check-in with local governing bodies to find out if there are any regulations that you need to be aware of.
Here are some of our top tips on where to set up your beehive.
Is beekeeping a good family activity?
Yes! Getting set up with a Flow Hive is a great interactive family activity as our revolutionary honey harvesting technology removes the need for additional harvesting equipment, making this enjoyable hobby much more accessible.
We have protective wear in all sizes to accommodate all members of the family.
Still have questions? We'd love to hear from you.
Is there any safety information I need to be aware of?
Beekeeping is a labour of love. As with all animal husbandry, it's a pastime that requires knowledge, skill and dedication and which carries with it inherent risks.
Beekeeping suits and other personal protective equipment can offer excellent prevention against bee stings but are not 100 percent effective. It's important new beekeepers exercise caution when tending to their hives and are comfortable with the fact that sooner or later, all beekeepers get stung.
Check out this Flow sponsored safety pamphlet covering common beekeeping safety risks and first aid responses.