Flow Hive 2 Paulownia Brood Box in 8 frames limited stock available - order NOW.
Manufactured in the same style as those included with our Flow Hive 2 Paulownia 6 Frame, these premium Paulownia frame Langstroth deep brood boxes can be used for brood, or as an additional conventional honey super.
Made in Australia from durable, sustainably sourced, Paulownia timber, these brood boxes are the ideal addition to our Flow Hive 2 Paulownia kit.
What size do I need?
Confused about what size to get? Don't worry we get it! Our Flow Frames are slightly wider than traditional wooden brood frames, so less of them are required to fil the super in a hive in comparison to brood frames in the brood box.
For an 8 frame brood box, 6 Flow Frames are used to completely fill the super. Compatible with a Flow Hive 2 6 Frame or 8 frame Langstroth beehive.
For a 10 frame brood box, 7 Flow Frames are used to completely fill the super. Compatible with a Flow Hive 2 7 Frame or 10 frame Langstroth beehive.
Order a matching Flow Hive 2 brood box today – but hurry, only a limited quantity available.
Comes with 8 timber brood frames. 
• Does not include bees.
• We ship our Flow Hive 2 Paulownia Brood Box flat packed and unsealed, leaving you with the satisfying experience of assembling yourself and bee-ing creative by painting or sealing it to suit your personal tastes. 
• Does not include assembly instructions. Please find these here.
NOTE: It is possible to stack this product with either our Paulownia, Western Red Cedar or Araucaria products. Langstroth sizing can vary up to a few mm so depending on the timber width of your existing hive, these brood boxes may not sit completely flush, however, this won't impair functionality.
TIMBER - PAULOWNIA
Crafted from sustainably grown, FSC certified, super lightweight, and durable, paulownia wood, using precision laser manufacturing.
Paulownia often gets compared to the lightweight yet strong properties of cedar.
It's a great timber source, as it grows to harvest in as little as 5 years, making it an icon for sustainability.
Which is what bees are all about.
To ensure it lasts a long time outdoors, two good coats of quality weatherproof sealant such as exterior house paint is a must. You can be as creative with the paint job as you like!
Read more about sealing your product here.
Timber included in this product is made from naturally grown resources - each hive will be slightly different in character. Please see our FAQ for more information on our natural timber characteristics.
FLOW FRAMES - BPA & BPS-FREE PLASTIC
Made in Australia from durable, highest quality food-grade, BPA and BPS-free plastic, Flow Frames have taken the beekeeping world by storm.
We have worked hard to ensure that our Flow Frames are manufactured from the very best food grade materials.
The clear viewing ends of the frames, as well as the honey tube and caps, are made from a virgin food grade copolyester. The manufacturers have assured us that it's not only BPA-free, but it is not manufactured with bisphenol-S or any other bisphenol compounds.
The manufacturers also advise that third-party labs have tested this material and the results have demonstrated that it is free of estrogenic and androgenic activity. The centre frame parts are made from a virgin food grade polypropylene which is also free from any bisphenol compounds and is widely accepted as one of the safest plastics for food contact.
Plastics have been used for many years in beehives for both brood and honey combs and have not been found to have a negative impact on bee colonies.
Store Flow Frames in a dry, cool, dark location out of direct sunlight when not in use. You can find further information in our FAQs.
This product is the same width as a 6 frame Flow Hive/Super, or an 8 frame Langstroth hive/super/brood box.
More precise dimensions are available here in our FAQ.
Beekeeping is a labour of love. As with all animal husbandry, it's a pastime which requires knowledge, skill and dedication and which carries with it inherent risks.
Our unique
Flow 3-layer mesh beekeeper suits
provide the best available sting prevention and are purpose designed for functionality.
Check out this Flow sponsored safety pamphlet covering common beekeeping safety risks and first aid responses.
New to beekeeping and not sure where start?
Beekeeping is such a fascinating pastime enjoyed the world over by people from all walks of life.
Learning about looking after your bees is a fascinating and truly rewarding experience. They are amazing little creatures!
We love welcoming new beekeepers worldwide into the Flow family and have a swarm of resources to assist you in your journey.
Included with the purchase of any of our Flow products is support from our knowledgeable Flow team via:
How much honey can I harvest?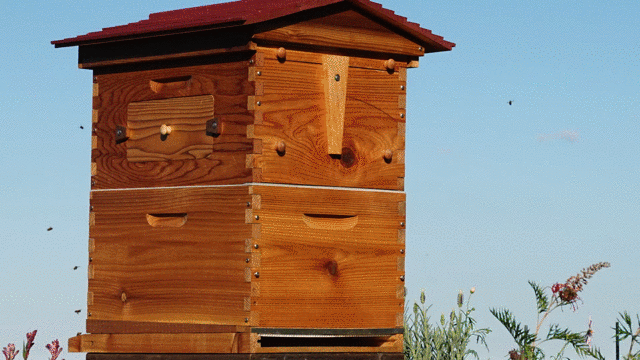 (Timelapse image shows 18kg honey harvest from 6-frame Western Red Cedar Flow Hive Classic)
Harvest up to 18 kgs (40 lb) of honey when the 6-frame super is full. Watch as fresh, pure unfiltered honey Flows from the back of the hive directly into your own jars. No filtering, no mess.
Each Flow Frame holds approximately 3 kg (6.5 lb) of unprocessed honey, this can increase if the bees really build each frame out. Bee prepared with extra jars in case your first one overflows!
For more information on honey collection see our FAQ.